DENTAL CARE DURING COVID-19 OUTBREAK
Right now, all of us are going through a lot of change. The novel coronavirus (COVID-19) has disturbed our lives in a variety of ways. Given the current condition in which we are in, maintaining a high standard of personal hygiene has probably never been more important. Being as hygienic as possible not only protects you but also everyone around you. These are a few recommendations to help maintain healthy teeth and prevent catching or spreading the disease.
Tips to help prevent catching or spreading the disease:
Never share your toothbrush
Even if you're related or close to the people with whom you live, you should never share your toothbrush with anyone else. Make sure that each family member has a different color or toothbrush type so that they can clearly be differentiated from each other. You should also ensure that inside the storage container, the toothbrushes of your family members do not touch each other. This will make it more difficult for bacteria or viruses to migrate from one brush to another.
Store your toothbrush away from the toilet
It is also important where you keep your toothbrush. The toothbrush holder should be away from the toilet and sink. Also, flush the toilet with the lid closed. Research has demonstrated the 'aerosol effect' of germs when a toilet is flushed. Some studies have suggested that viruses may be transmitted by faecal matter. After use, store the toothbrushes in an upright place and let them air dry. Storing a wet toothbrush in a closed container encourages microbial growth.
Replace your toothbrush after being sick
If you or your family members have become sick, it's a smart idea to change everyone's toothbrush in your home. Replace the toothbrush head if you are using an electric one. Viral and bacterial infections are of significant concern and replacing your toothbrush will reduce the risk of getting sick again. Even if you are healthy, it is recommended that you change your toothbrush every three or four months or earlier if bristles are frayed.
Tips to avoid dental emergencies:
In the wake of the COVID-19 pandemic, proper oral hygiene may not be a priority in our minds right now. Many people have developed an erratic diet and oral hygiene routines which may result in dental emergencies.
Wash your hands: Wash your hands with water and soap, and thoroughly dry them before and after personal dental care.
Brush your teeth well: Always remember to spend at least two minutes twice a day cleaning your teeth.
Use fluoride toothpaste: Fluoride helps to harden the enamel of the tooth and minimizes the chance of decay.
Floss once a day: This helps remove bacteria and plaque in between teeth where the brush isn't able to reach.
Eat a healthy diet: Limit sweet treats and sugary foods and drinks. Drink the right amount of water all day. Rinse your mouth with water after every meal.
Limit excessive snacking: This habit is all too easy to develop when coping with stress and boredom during lockdown.  
Avoid using your teeth to open bottle caps or crack nuts: You may risk chipping or fracturing your teeth.
In case of dental emergency:
In the event of a dental emergency, please call your dentist for advice. Your dentist will evaluate the condition and suggest the next steps.
Understanding the value of oral health and keeping a balanced dietary routine will help avoid any dental emergencies and encourage good immunity in the fight against any infection. Prevention is the key in the fight against dental problems as well as COVID-19.
WHAT TO DO IN A DENTAL EMERGENCY? Emergencies concerning the...
Read More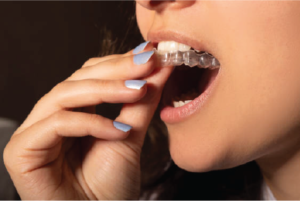 HOW TO GET YOUR TEETH STRAIGHTENED? The advantages of straighter...
Read More
DENTAL CARE DURING COVID-19 OUTBREAK Right now, all of us...
Read More
Dr. Paresh Lotlekar is a leading dental practitioner specialising in Periodontology & Oral implantology and the founder of STUDIO32 (studio32india.com), a chain of super speciality dental clinics in Goa.