The Perfect Solution for Replacing Missing Teeth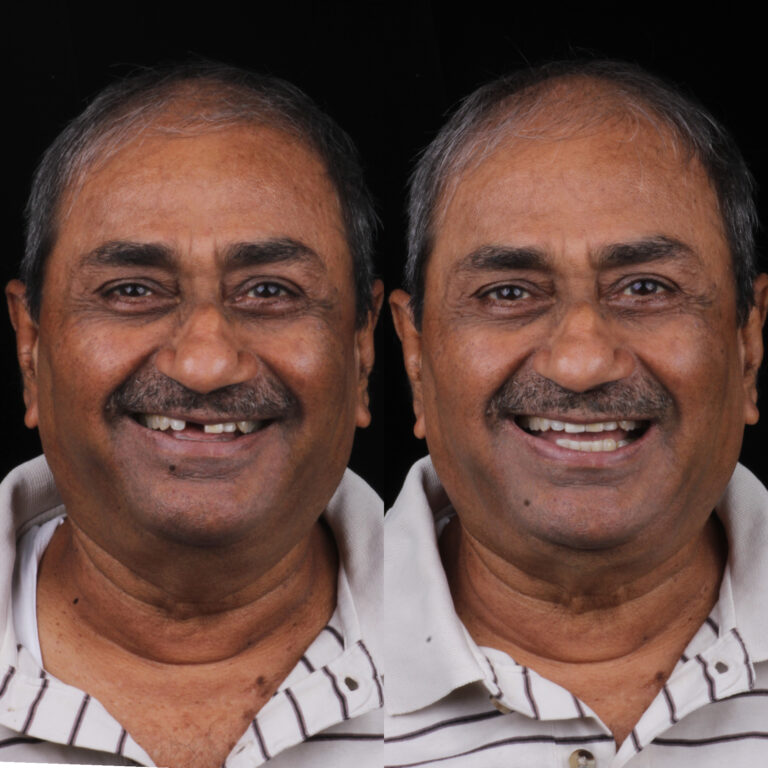 Dental implants are easily the most popular and also the ideal solution, for replacing your missing tooth/teeth.
A dental implant is basically a titanium post which is surgically inserted into the jawbone beneath the gum line to work as a tooth root. Post insertion, an implantologist will attach a crown on top of the implant to ensure the appearance of a natural tooth. Tooth Implants not only look and feel like your natural teeth but also function like.
At Studio32, we cater to each individual's unique needs, from a clinical standpoint to time and budget constraints.
BEFORE & AFTER TRANSFORMATION
Aesthetics: The nearest you can come to healthy, natural teeth are dental implants. The implant essentially replaces the root of the missing tooth and feels, looks, and works much like natural teeth. They preserve the jaw bone and hence help you keep the shape and smile of your natural face.


Confidence: Since the implants are fused to your jaw, they are very stable. So they're not going to slip when you talk, eat or laugh. You will find your speech more natural too.


Convenience: Just like your natural teeth, you brush and floss them. They are unlike dentures which have to be regularly taken out of the mouth to clean.


Cost-effectiveness: Dentures or bridges can appear far less expensive at first glance than dental implants, given their lower upfront costs. However, they may need to be replaced as often as every 5 to 10 years, requiring a more significant investment of time and money. You might be surprised how cost-effective dental implants are, especially if you take long-term success and value.


Long-term success: In actuality, dental implants have the highest documented success rates as a tooth replacement option. Clinical trials over the past 40 to 50 years have shown that dental implant treatment has a success rate well above 95 percent.


Health benefits: Dental implants are the only option to replace the tooth that stimulates jaw bone and prevents bone loss. Additionally, dental implants do not need grinding of adjacent teeth unlike bridges or partial dentures.
Difference Between Dental Implants & Bridges
| | |
| --- | --- |
| Bridges | Implants |
| May compromise the adjacent natural tooth | Does not compromise with an adjacent tooth |
| A bridge may need replacement at times where bone loss continues at the site of the missing tooth | An implant causes no bone loss as it gets attached with the bone and promotes healthy bone |
| With bridges, your teeth may be prone to plaque, decay or gum disease, with a risk of possible future root canal | With no free spaces in between, implants won't attract bacteria ever for plaque accumulation |
 Depending on the technology used, our implant cases are categorized into 3 types:
Specialized technique that enables replacement of teeth in a single day.
Most cases are eligible for this technique, subject to scans and evaluation.
Revolutionary concept that combines precision surgery with specialized implants for immediate results.
Latest development in dental implant technology.
Involves completion of the entire procedure, comprising extractions, implant placements and fabrication of the crowns (teeth) in one stage of approximately two weeks.
Can be used for almost all types and categories of cases.
Carried out in two stages spread over a minimum interval of 3 months.
First stage involves the placement of the implants and requires one to two sessions.
Second stage includes the fabrication of the crowns (teeth). This is an obsolete technology and only used in those few cases where single stage implants are clinically not possible.
What are the steps of dental implant/tooth implant treatment?
In order to replace a missing tooth with an implant, the treatment can be divided into the following steps:
Diagnosis and treatment planning
Placement of implant
Healing phase
Prosthetic phase
Benefits of Implants Over Other Options
implants are the first choice for replacement of missing teeth today due to the many benefits implants have such as:
they provide more comfort and stability
Since dentures cover a large part of our gum tissue, taste and temperature sensation are nearly lost while one eats their food. This, however, is not seen with implants
Implants, are standalone structures and do not cause harm to nearby teeth
They have the most superior aesthetics and look very similar to natural teeth
Gentle and Pain-free Experience
When conducted by the right pair of hands, implant procedures are absolutely painless and very comfortable. Our experts not only perform with surgical precision but are also trained in carrying out the procedures with utmost care. We go the extra mile to make every patient feel relaxed with our soothing ambience and calming music. We also provide sedation options for patients, on request.